Krabi Hotels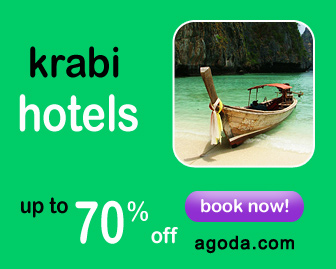 Krabi is a province of Thailand located in the southern area and has fantastic beaches along the shore plus many wonderful islands. You just can't imagine how beautiful they are. Phi Phi Islands is one of the very famous spots in Krabi that travelers can't miss.
About the weather in Krabi province, there are only two seasons in this region, which is different from other parts of Thailand. The summer season lasts from January to April, and the rainy season lasts from May to December. The temperature is between 16.9 and 37.3 degree Celsius throughout the year.
You can get to Krabi by car or by plane. If you drive there from Bangkok, you go along the highway number 4 through many provinces. The overall distance is approximately 946 kilometers.
If you go to Krabi from Phuket, you can use highway number 402 connected to highway number 4 through Pangnga province and Krabi province. The total distance is approximately 185 kilometers. Also, the public transportation companies provide air-conditioned buses for people everyday from Bangkok and Phuket. If you decide to go there by plane from Bangkok airport, it takes about 1 hour and a half to Krabi province.