Bangkok Hotels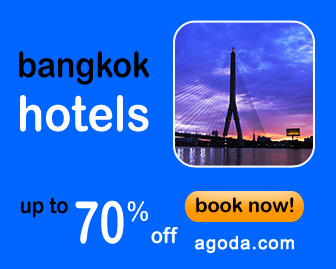 Bangkok is a city where you can see how past, present, and future live harmoniously together.
On one side you can see the old pattern of commodity trade in floating markets and on the other side enjoy the shopping and entertainment in some of the most luxurious malls of Asia. During Bangkok tour don't miss the chance to enjoy city's famous nightlife, excitement of a Muay Thai Boxing, and the glam and glitz of a Ladyboy show.
Bangkok is also famous for its Thai food, which are available in various restaurants in the city. Bangkok is also popular for its Thai Massage centers and Spa treatment.
The city provides world class accommodation facilities from discount Bangkok hotels to luxurious 5 Star Hotels in Bangkok. If money don't matter for you and you are willing to pay any amount for your comfort the great number of luxury hotels are available. These 5 Star hotels in Bangkok count amongst the most affordable in the world. Hotel Center Point Sukhumvit Thong Lo, Hotel Windsor Suite, Hotel Pathumwan Princess, Hotel Tawana, Hotel JW Marriott, Hotel Four Seasons, Hotel Conrad, and Hotel Banyan Tree are some famous Five Star hotels in Bangkok.